Why is Marina Prem passionate about teaching at FHWien der WKW?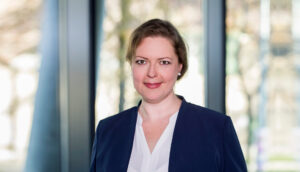 I am actively involved in the development of new curricula, which means that I can not only create courses independently, but also work autonomously.

As a lecturer at FHWien der WKW, I am part of

an excellent educational program for students,
work with them on interesting practical projects and promote exchange with companies.

I work in a renowned environment, the university of applied sciences is characterized by high quality standards and memberships (e.g. Harvard Business School MOC Network, member of PRME).

I very much appreciate the active exchange of ideas and know-how. The close cooperation with companies results in

a high level of practical relevance and numerous opportunities for cooperation,
participation in interesting conferences, international teaching weeks, industry events and network meetings (as a participant and speaker),
cross-departmental meetings that open up other perspectives.

Togetherness has a high value and enriches the collaboration with students, graduates and external lecturers.

FHWien der WKW maintains partnerships with over 170 universities worldwide. As a result

I can participate in a staff mobility program and
I work in an international environment due to the high number of incoming students and English-language programs.
In addition to these special features, FHWien der WKW offers its employees many benefits. Here you can find all the benefits that distinguish us as an employer.
In this video, my colleagues and I tell you what meaningful work at FHWien der WKW means to us:
An overview of the central areas of activity in teaching:
Lecturer
Teaching
Supervision of BA/MA theses, BA/MA final examinations
Academic Expert & Lecturer
Teaching
Supervision of BA/MA theses, BA/MA final examinations
Strategic and operational management of the subject area
Coordination of lecturers in the subject area
The study programs of FHWien der WKW:
What distinguishes TeamLife at FHWien der WKW for lecturers?
You can count on us: We are a reliable and stable employer, even in times of crisis.
You benefit from flexible working hours & models.
Mobile working is possible for employees in teaching for a limited period of time.
Continuing education is important to us, you can choose from an annual offering of over 100 courses, trainings and workshops.
We live an open discussion culture.
Smart Working is standard for us, you work in a modern environment and at height-adjustable desks.
We are a "University and Family"-certified ("hochschuleundfamilie") University of Applied Sciences, which means that we offer a family-friendly environment. Moreover, we offer 1-2 weeks of childcare in summer.
Your health is our top priority, live healthy with our health promotion offer (vaccinations, hearing and vision tests, stress prevention, etc.).