Location & Public Transport
FHWien der WKW is part of the WKO campus Vienna and is located in the center of Vienna on Währinger Gürtel 97, 1180 Vienna. FHWien der WKW is within walking distance of the stop Währinger Straße/Volksoper. The following methods of public transport can be used:
U6 subway line
40, 41 and 42 tram line
40A and 37A bus line
The main entrance is located on the corner of Währinger Gürtel and Gentzgasse. The Service Point can also be found at this entrance. The WKO campus Vienna has two underground garages, one of which leads to building section B and the other to building section C. Building section B can be accessed using the underground garage whose entrance is on Währinger Gürtel, and building section C using the entrance to the underground garage on Semperstraße.
FHWien der WKW in building section B
The departments of FHWien der WKW cover an area of 9,000m² and can be found in building section B.
The different sections of the building are easily reachable with many connecting walkways. Optimal space resources, modern classrooms and a comprehensive library provide enough space for 2,800 Bachelor and Master students.
Facilities such as the CampusShop, a variety of eating possibilities and an underground garage reflect the excellent infrastructure at FHWien der WKW.
There is wifi available across the whole of our campus, and there are also enough IT rooms available for our students. Additionally, all classrooms are fitted with modern multimedia equipment. CampusCards have a cash function and entitle all teaching staff and students to copy, print and to receive discounts off the campus restaurants.
Building Plan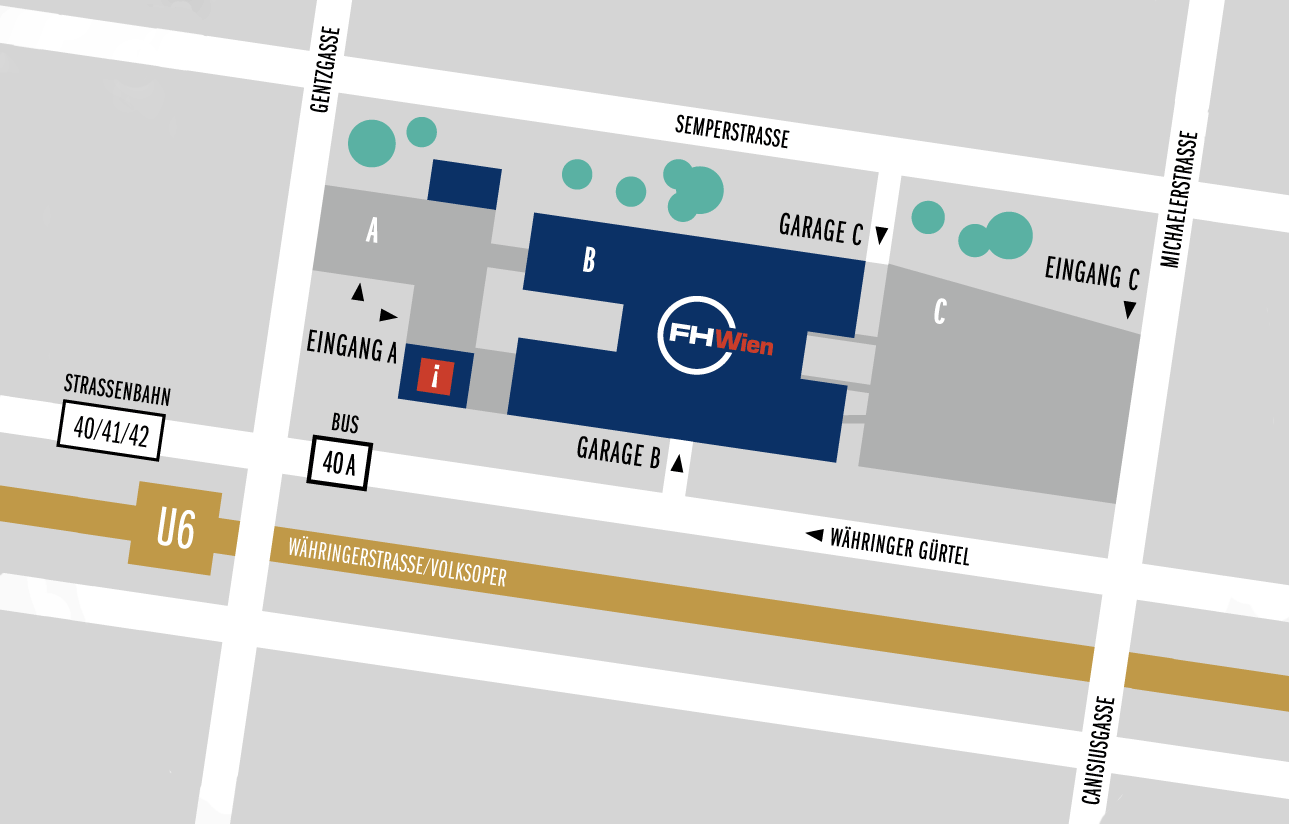 Barrier-free access
The FHWien der WKW is barrier-free accessible via the main entrance in Building A as well as the side entrance via Semperstraße in Building C (via use of the signal bell). Accessible toilets, which can be opened by means of a Euro-Key, are located on each floor.
Wiener Linien Semester Ticket
There are two different types of semester tickets available for students. These tickets are valid for travelling in Vienna by tram, train, bus and subway.
Semester tickets cost 75€ for students whose main residence is in Vienna
Semester tickets cost 150€ for students whose main residence is outside of Vienna
Who get's a semester ticket?
Semester tickets are available for students under the age of 27, or under the age of 28 if the student is entitled to a family allowance (Familienbeihilfe) at the beginning of the semester (March 1 or October 1). Semester tickets are valid for five months, from the beginning of September to the end of January and from the beginning of February to the end of June.
Which documents are necessary to purchase a semester ticket?
To receive a semester ticket, you must be able to produce the following documents:
Valid Student ID for the semester concerned
Your official registration form to prove that your main residence is in Vienna (Meldezettel)
Application form for the semester ticket
Can I buy the semester ticket online?
Semester tickets can also be bought online at shop.wienerlinien.at. The system will check your matriculation number, name, date of birth and address with the Austrian Federal Computing Center (Bundesrechenzentrum) or with your higher education institution.
Once it has been confirmed that the information given is correct, it is possible to pay online and then print out your semester ticket. Please note that you must already be inscribed for the semester before applying for a semester ticket.
Please note that you must already be inscribed for the semester before applying for a semester ticket.
Student monthly card
Students can buy a monthly card for July or August for approximately 30€, which is valid for the subway, trams, buses and trains.
Source: www.wienerlinien.at
ÖBB: Discount
An ÖBB discount card for people under 26 costs approximately 20€ and can be bought online or at any rail station. The card reduces the cost of train journeys by 50% if you buy online or at a ticket machine, or by 45% in the ticket office.
It also reduces the cost of monthly tickets for a specific route by approximately 30% for students. This offer is not available in July or August.
For more information, please see the ÖBB website.
WESTbahn: Discount
If you're holding a valid student card from any Austrian school, university, technical college or college of education or a valid Austrian apprentice ID you can profit from even cheaper WESTbahn fares from now on. When buying online you will receive 10% reduction off our WESTstandard ticket, entirely without age restriction!
Details: WESTbahn website