Mission & Structure
The Research Cluster SMEs & Family Businesses conducts excellent research projects which are practice-oriented and targeted at international top-tier journals. It comprises of two research centers with complementary research themes:
Activities
The activities of the Research Cluster focus on three core areas: research, teaching and business practice (see figure). The creation and usage of synergy effects between these areas enable a joint strategic orientation of the cluster activities as well as purposeful development of expertise and structure in the specific areas.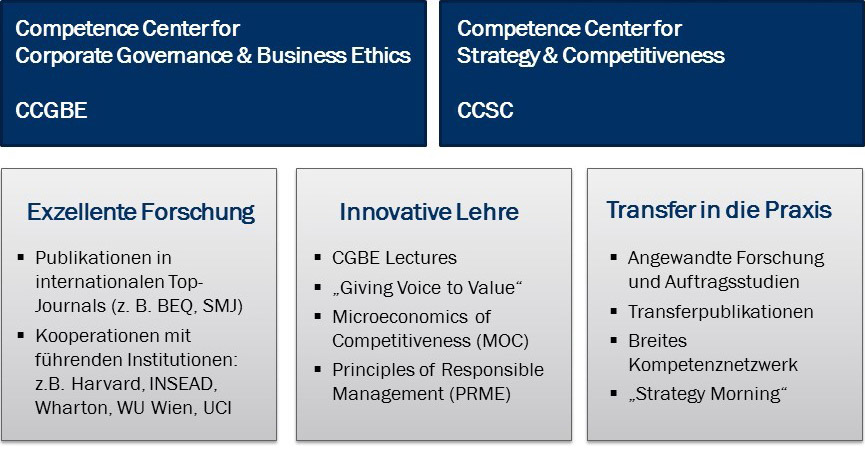 Goals
The activities of the research cluster focus on the following four objectives:
1. Research and publications at the highest scientific level
The Research Cluster carries out rigorous research projects. The results of these projects are regularly published in internationally renowned journals (e.g., Business Ethics Quarterly, Strategic Management Journal, Journal of Cleaner Production) and presented at relevant international conferences. Typically, the projects are developed in collaboration with co-authors of leading international research institutions (e.g., INSEAD, Wharton Business School, University of California Irvine).
2. Creation of applicable knowledge and transfer to business practice
The main focus of the cluster is on relevant research for business practice. Research studies are aimed at providing an added value for the various stakeholders of the cluster (e.g., companies, politics, NGOs). These research projects are often funded by third parties and are carried out in close cooperation with various partners.
The findings of these projects are distributed to the partners via practice studies, lectures, organized workshops and coaching as well as application-oriented teaching. In addition, members of the research cluster regularly publish in transfer journals (e.g., California Management Review, MIT Sloan Management Review) and blogs relevant to the subject, provide interviews, and use social media to disseminate the acquired knowledge to a wider audience.
3. Interdisciplinary competence network
The Research Cluster is a platform for science, teaching, and business practice and acts as interface for SMEs and family businesses in the areas of Corporate Governance and Business Ethics and Corporate Strategy and Competitiveness. It is an important network knot for various stakeholders in the field of science, business practice, politics and NGOs and specifically provides conferences, business workshops, practitioner-oriented lectures and other events for these Groups.
4. Science-based and application-oriented teaching
Faculty of the cluster are responsible for the organization and coordination of courses and modules in the areas of Business Ethics an Corporate Governance as well as Strategy and Competitiveness at FHWien der WKW. The substantive claim is to teach excellent courses that endow students with rigorous knowledge and competences to apply the knowledge in the context of business practice. This goal is achieved through the use of internationally renowned and certified didactic teaching concepts as well as the transfer of current research results in the specific courses.