Why is Karin Dudziak passionate about working at FHWien der WKW?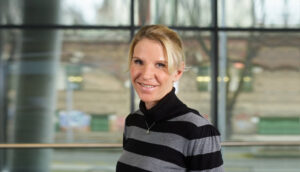 I really appreciate the diverse and interesting work environment. I also get the opportunity to actively shape what happens at FHWien der WKW. What helps me to do this? Clear structures with predefined processes and responsibilities, which we are constantly optimizing.

Open communication is more than just a buzzword at FHWien der WKW:

I can find important information on the intranet at any time.
An internal newsletter and a digital press review keep everyone up to date.
Comments to the management can be communicated during the annual feedback meeting.
Every two years, a survey is conducted among employees, and
regular feedback talks are highly valued.

FHWien der WKW offers a family-friendly work environment. In addition to 1-2 weeks of childcare in summer, the Family Day where children can discover their parent's workplace is held once a year.

The onboarding concept ensures a smooth entry into the company with

mentors who give tips and answer questions,
an individual and goal-oriented training plan and
regular feedback meetings.

Togetherness is our principle and top priority. At numerous team events, colleagues can get to know each other better and exchange ideas, which facilitates cooperation.
In addition to these special features, FHWien der WKW offers its employees many benefits. Here you will find all the benefits that distinguish us as an employer.
In this video, my colleagues and I tell you what makes working at FHWien der WKW interesting for us:
The functions of the administration/office at FHWien der WKW:
What makes TeamLife at FHWien der WKW special for administrative staff?
You can count on us: We are a reliable and stable employer, even in times of crisis.
You benefit from flexible working hours & models.
Continuing education is important to us, you can choose from an annual offering of over 100 courses, trainings and workshops.
We live an open discussion culture.
Smart Working is standard for us, you work in a modern environment and at height-adjustable desks.
We are a "University and Family"-certified ("hochschuleundfamilie") University of Applied Sciences, which means that we offer a family-friendly environment. Moreover, we offer 1-2 weeks of childcare in summer.
Your health is our top priority, live healthy with our health promotion offer (vaccinations, hearing and vision tests, stress prevention, etc.).