Degree
MSc
Master of Science
Study places up to
24
at WIFI Vienna
*If you have a trade license as a life and social counsellor, it is possible to start studying in the 2nd semester.
The MSc Communication & Counseling in Business is a course of further education according to § 9 FHG (University of Applied Sciences Act) with the degree "Master of Science (MSc)".
The University of Cooperative Education "Communication & Counseling in Business" is conducted in cooperation with the WIFI Vienna.
Highlights
Developement of advisory skills and communication tools at academic level
Application-oriented content in a business context
A range of students, all with different professional backgrounds
Organization
Type of degree program
Part-time
Blocked
Language of instruction
German
Start of degree program
September
Place of study
WIFI Vienna
Application
Fees
EUR 12,600 in total (for all semester)
Subsidies
Here you find an overview of the funding opportunities.
Application
Focus & Qualifications
The part-time 3 or 4-semester Master's program can be flexibly completed while working, supports students in the sustainable expansion of their competences in the areas of communication and consulting and concludes with the internationally recognized academic title "Master of Science".

Students are supported by a didactic approach that is less oriented towards written final exams but is primarily characterized by (written) reflection, case studies, project work, (conflict) analyses, presentations and the creation of written concepts. A combination of attendance units and self-study units is designed to meet the needs of working students.
After completion of the study program, graduates can
apply counseling methods and coaching techniques to create counseling strategies and designs and use them on specific target groups.

counsel companies and individuals in case of changes, conflicts or crises, in group dynamics or intercultural issues or in aspects of occupational health management on site, online or in hybrid forms

offer their services in a quality-assured manner and apply their competence in their own company or take on management responsibility in (psychosocial) counselling facilities in a responsible manner

make a positive contribution to the further development of companies and individuals through their work as a coach, consultant, supervisor or counselor in a business context
Curriculum
The content and sequence of the courses or modules of the MSc Communication and Counseling in Business are chosen in such a way that the three areas of the program are systematically linked and deepened.
Study focus of the program
The course of study is divided into three main content areas, to which the 19 subject-specific modules are assigned as follows.
Business management context:
Resilience & crisis management in a corporate context
Fundamentals of business administration
Challenging situations in personnel management
Operational health management
Labor law basics & organizational theory
Leadership
Communication and counseling: methods and techniques
Basics of communication & methods in counseling
Conducting a conversation
Basics of conflict management
Fundamentals of crisis intervention
Presentation & moderation
Health psychology
Group dynamics & teamwork
Advanced methods in counseling & online consulting
Supervision & intercultural competence
Research Skills and Methods and Master's Thesis
Research skills and methods
Master thesis 1
Master thesis 2
Master exam
Job & Career
The need for academic development of skills in the field of counselling is based on the one hand on increased chances of promotion in companies (especially if combined with management competence), on the other hand on increased implementation potential in the freelance sector by proving one's own competences in the form of an academic degree.
A corporate culture that values cooperation based on partnership understands communication as an essential building block for corporate development and provides employees with psychosocial counseling services will be central to corporate success in the long term.
You will support companies that have recognized the human factor as a success factor. The demand for high quality services is increasing as demographic change, globalization and digitalization affect everyone and must be mastered. The academic basis of this program enables students to more consciously exercise and develop existing knowledge and skills and to acquire new perspectives.
Application
The MSc Communication and Counseling in Business is aimed at a diverse target group. In each cohort, students with different professional backgrounds will be represented: those who already have experience in the field of psychosocial counselling and those who are just entering the field of counseling in a business context. This makes for extra potential for the successful further education of the students.
Target group
The program has two main target groups:
Consulting (external) professions, such as
Life coaches and social counselors
Management consultants
Mediators
Psychologists, especially health and occupational psychologists
Psychotherapists
Trainers, lecturers
Qualified nursing staff
Managers and employees in specific functions
Management
Human Resources: Personnel managers, personnel developers, company health managers, company (re)integration managers
Marketing, communication and public relations: communication officers, press spokespersons, public relations officers
Works Councils and Equal Opportunities Officers
Admission requirements
First degree (minimum Bachelor) from a recognized Austrian or comparable foreign university and at least one year of work experience OR
At least six years' relevant professional experience (including at least three years after the end of the apprenticeship), including at least one year in a management function
Completion of admission procedures/interview
Admission procedure
Applications should be made directly to WIFI Vienna.
We look forward to receiving your application!
Program information
The WIFI Vienna is at your disposal for any questions you may have.
Tax reimbursement: You can write off the tuition fees against your taxes, as long as the continuing education program is relevant or related to your current occupational field. The tax advantage depends on your total income. You could be reimbursed for up to 43.6% of the tuition fees!
More information can be found here:
Bundesministerium für Finanzen (Federal Ministry of Finance)
Hintere Zollamtsstraße 2b, 1030 Wien
Tel.: 01/514 33-0
www.bmf.gv.at
The e-mail contact form can be found here:
www.bmf.gv.at/service/allg/feedback/_start.asp
BFB Training allowance for companies: 
www.kursfoerderung.at/index.php?id=9&uid=22
All information is without guarantee. Please be aware that we cannot make any guarantees about subsidies!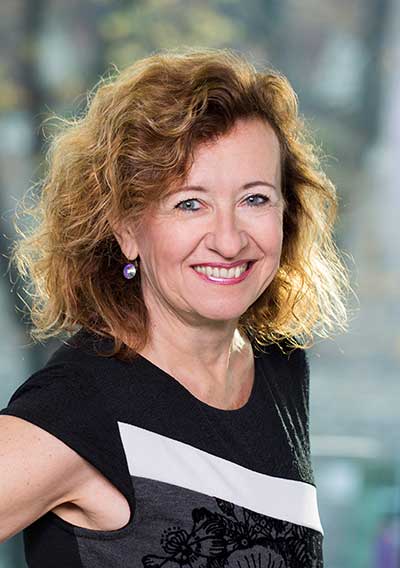 Mag.a Gabriele Zeiner
Academic Expert & Lecturer
Competence Center for Leadership & Social Skills

Head of Program
MSc Communication and Counseling in Business